Services
We strive to excellence in service we provide
Civil Construction Work
Pinnacle Prime offers civil construction services to its Customers that excel in meeting the Unique needs in residential, commercial &Business sectors. We have the technical expertise to serve the small and medium scale to large scale constructions. We always put world-class expertise to work in our design and construction processes, which places a premium on Strong and long lasting structures. The merits of designs that have higher initial costs but lower operating costs over the life of the Construction are also considered. We compare all suitable alternatives during our planning phases to determine which choices are the most efficient. Our construction operations comprise all types of the build environment. This includes the most complex projects, such as tall buildings and Commercial and residential infrastructure, as well as a large number of mid-sized projects and small projects such as private homes.
Pinnacle Prime is a highly professional company with skilled technicians, Experienced Engineers and a highly motivated Work Force. At any given time we can handle from the simplest to the most complex construction processes. Our initiative starts right from the time of planning. We have clearly segmented course of action at Pre-Construction, Construction and Post Construction Processes.In Order to benefit you as our valued customer, follow our well defined standard project execution process withstringent quality testing procedures at every stage of the project.
In Order to benefit you as our valued customer, we undertake stringent quality testing procedures at every stage of our project We divide the project into phases like Reconnaissance, feasibility, preconstruction engineering and design, construction processes
Below is our acclaimed service provisioning stack.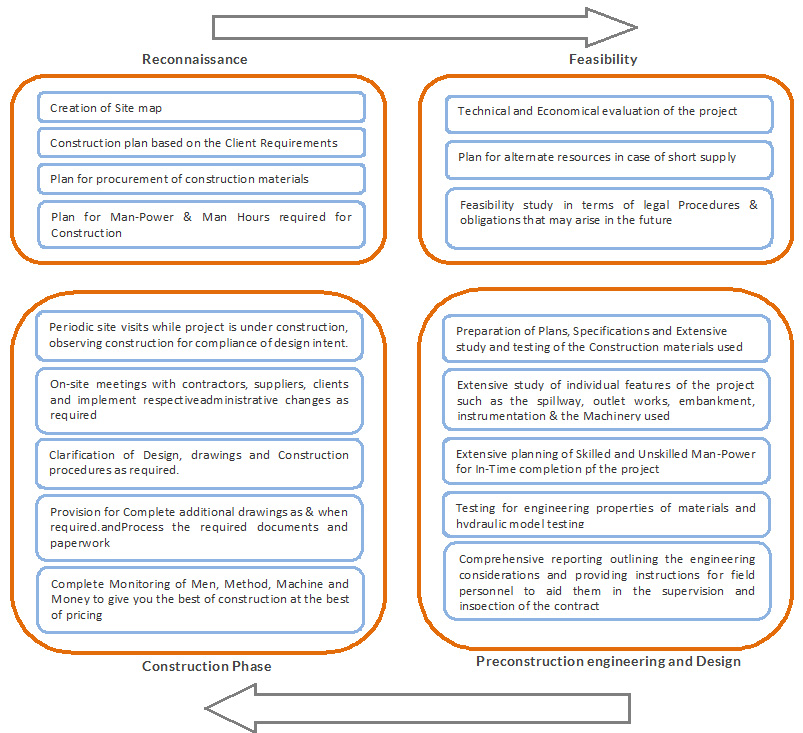 Turnkey Projects
PINNACLE PRIME is well equipped in and organized to handle any of your Turnkey projects in Industrial, Commercial & Residential Sectors to deliver the best of services and long lasting constructions. We are amply supported by our team of experienced professionals; we are specialized in offering Contracting and Consultancy Services in areas of Turn Key Projects, For this, we undertake all the aspects related to a project such as project management, time & cost control, permissions & approvals, construction and on site safety. Further, our expertise allows us to successfully handle turnkey projects and offer solutions as per the customized demands of clients.
Our services in this area include
This is conducted essentially to study and understand the geographical location, its surroundings and the best plan that can be devised for construction to get the best of results at the minimum cost possible. The processes include
Project administration
licensing-in of process
design and engineering services
subcontracting
management control
procurement and expediting of equipment;
materials control in terms of Inventory and Quality Management
inspection of equipment prior to delivery
shipment, transportation
control of schedule and quality
pre-commissioning and completion
performance-guarantee testing
While executing your Turnkey construction projects PINNACLE PRIME assumes higher risks than other construction contract process. We always allow more room for multiple eventualities that cannot be easily foreseen. For instance, we take into account the ground conditions of a building site. Besides we make sure of the Cash & Fund Flow for your Turnkey Projects to ensure On-Time completion of your projects